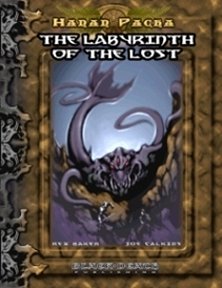 Great challenges - with disaster facing those who fail! Suitable for parties of levels 9-13, with all major classes represented.
Publisher's blurb: "The long awaited follow up to the adventures in Hanan Pacha has arrived: The Labyrinth of the Lost! A group of courageous heroes are badly needed!
"The world faces a mortal threat: evil wizards are trying to open the Black Door to the undead realms. With this door open, the titan Erebus awakens from his ages-long slumber. He is in a foul mood because undead are being summoned by this foul gate. Mortals only have a limited time to deal with this threat before Erebus calls forth the other titans, who will wreak havoc on the mortals for their insolence! Mid to high level characters who have magic and magical weapons are best suited for this advenutre. A second file provided for your convenience has all of the dungeon maps.
"This adventure fits well in any campaign world that has magic and magical weapons available. The text block style (of monster stats) is easily convertible to other versions and systems."
Book Details:
Author: Rex Baker
Publishers' Reference: HP-4
ISBN: n/a
PDF, 42 pages
Date: October 2008
Buy this product:
Product page last updated: 29 November 2008