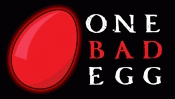 One Bad Egg was set up in 2008 by a group of gamers from Evil Hat Productions and Blue Devil Games for the specific purpose of providing materials for Dungeons & Dragons 4e. Their aim is to produce story-based ideas in a modular style, things that can be used without constraint within your own setting.
The Shroud - a 'worldseed' setting that can be used as is or mined for your own use
Visit their website.
Company Section last updated: 22 November 2008