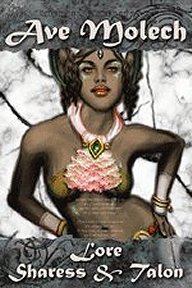 This product is a short story which covers a lot of the background history of the land of Ave Molech. It's recommended that you read it after you have read the campaign setting book, as it might otherwise be rather confusing.
It tells the tale of events between Sharess, a large black dragon, and her erstwhile follower and then betrayer Talon, as seen by a bunch of scavengers who encounter them while rooting through the layers of deserted and abandoned levels under the city of Hork. Marred by poor proofreading and outbreaks of pottymouth, the story otherwise is quite atmospheric and gives a good feel of the sorts of things that scavengers might find.
However, the truths revealed here are ones unknown to the inhabitants of Ave Molech and, although fascinating to read, it is difficult to see how even the most inventive of DMs can make use of them to advance his adventures. At times it is almost incoherent and hard to follow, even armed with the outline of events as given in the Ave Molech setting book. Overall, I am not sure that it really advances your understanding of events much, and certainly does not promote any empathy with the main protagonists. While contributing to the overall history of the land, it is not usable within your game.
Return to Lore: Sharess and Talon page.
Reviewed: 16 November 2008