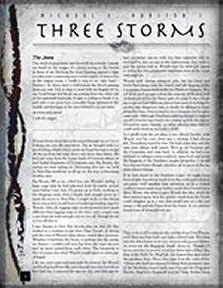 Subtitled "Three Storms," the core of this product is a short story, accompanied by adventure ideas and other support material. The story, told from the viewpoint of a junior crewman, tells of a pirate attack on a cargo-bearing airship. It's an atmospheric and evocative tale, marred by sloppy proof-reading (possibly over-reliance on computer spelling and grammar checks rather than the mark 1 eyeball), which gives sufficient background to enable you to describe life on a commercial airship should your characters have occasion to be on one.
The adventure ideas include being caught up in such a raid as innocent bystanders, as hired guards... or even from the other side as the pirates themselves. Next comes more detail about airships in Ave Molech (especially useful if you have not got the setting book but fancy adding them to your own world), leading in to game descriptions of the items mentioned in the story and additional remarks, not just the airships themselves but weapons and other gear, much with a steampunk flavour.
There is also a map of Ave Molech showing where the action takes place - which leads me to wonder if there is scope for adding greater intrigue to your own adventure, as the crewman in the story attributes the pirate attack to chance brought about by the airship following a more northerly route than planned, which took them into known pirate-infested areas... and yet, the map shows that the attack occurred once the detour was ended and they were back on track. Perhaps deliberately targeted rather than chance - well, you decide!
Overall this gives a nice impression of ordinary airship trade, sufficient to permit you to incorporate it into games set in Ave Molech, or someplace else you decide to permit similar technology.
Return to Ave Molech Journals Vol.5 page.
Reviewed: 16 November 2008