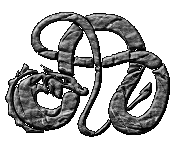 Although Morbidgames began trading in October 2006, its origins lie in the 2002 release of the computer game Neverwinter Nights, which inspired company founder Michael G. Hurston to use his original game world within the computer game's scenario generation system. With fellow-games Michael and Joe Bond, things began to loop back to the tabletop, culminating in the release of the 1st edition of the Ave Molech setting. Now, after various trials, the 2nd Edition has now seen the light of day.
Ave Molech - a campaign setting for Dungeons & Dragons 3e
Visit their website.
Company Section last updated: 9 November 2008