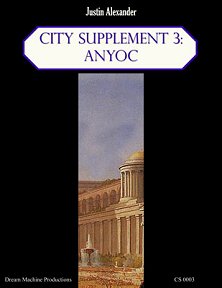 This product presents an exotic and colourful fantasy city which manages both to have a lot going on within and yet be self-contained enough to be dropped into an existing campaign world. Its history is rich and strange, as the multicoloured stones of which it is built are unique in the way they were mined and treated by unknown ancients, successive peoples have inhabited and used what these ancients left behind.
Opening with evocative descriptions that could be used as 'read aloud' text as the characters arrive for the first time, there is a brief introduction to the history and architecture of the city before a discussion of its current governance (neatly tied in to the historical record). Next some leading figures in town are described, beginning with the Governor himself, and including leading nobles, clerics and the guard commander.
This is followed by a more detailed gazetteer. Here you can find out about different parts of the city including plenty of tradesmen and others that your characters might wish to visit. Many of the locations described already spawn ideas for possible adventure, while numerous sidebars describe things - such as a special ruby crystal material (a bit like amber) and goodberries - common here but perhaps not encountered elsewhere. But if the descriptions don't give you ideas, there are quite a few specific adventure seeds provided for you to embroil characters in, most not requiring them to know much about the city or its inhabitants before they start. The work ends with a selection of maps of the city, in colour and in black and white, labelled and unlabelled to suit your needs, including one over 4 pages which can be stuck together to make a poster.
As presented, there's enough to drop the city into your campaign world and let characters pay a visit or two; while there is plenty of potential and scope for you to expand on the detail should they - or you - decide to make it a more focal point of your adventures.
Return to Anyoc page.
Reviewed: 31 October 2008