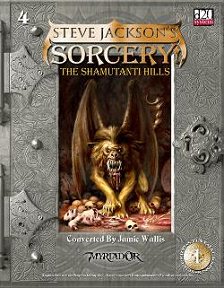 The first in what will be a 4-part adventure, this is aimed at a small group of adventurers who are in search of the fabled Crown of Kings - but face a long and hazardous journey to find it.
Publisher's blurb: "It is a night that many people will never forget, the night of the Black Moon, the night that the Crown of kings was stolen from the quiet and peaceful Province known as Analand… your homeland.
"You have been given the task of returning the Crown of Kings, stolen by Xamen Birdmen and taken to the Archmage of Mampang. This is the first part of your epic adventure which will take you across the perilous Shamutanti Hills of Kakhabad. Will you avoid the deadly Headhunters, Elvins and Hill Giants and make it safely to Kharé - The City Port of Traps."
More when I get hold of a copy!
Book Details:
Author: Jamie Wallis, based on original work by Steve Jackson
Publishers' Reference: MYRFF04
ISBN: 1-904629-03-2
Paperback, pages unknown
Date: Coming soon