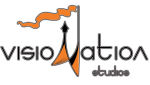 They announce that "visioNation studios is about creating boundary free role-playing systems that allow the Visionary and their role-players to go beyond the limit of the rules." Their aim is to create a role-playing system that would allow for not only the freedom to see and use the core rules, but to create rules that a storyteller felt was important. Who could create the perfect set of rules except the people actually running and playing the game.
They have devised a generic game mechanic, the percentage-based RARE (Realistic Advanced Roleplaying Engine) system, and are busy applying it to a range of genres.
Visit their website.
Company Section last updated: 7 September 2008