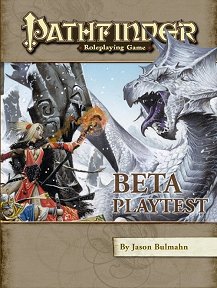 After a good few months of being kicked around on the Paizo boards, the Pathfinder RPG reaches its second stage.
Publisher's blurb: "This complete stand-alone fantasy RPG takes your fantasy campaigns to new heights of adventure! Backward-compatible with the 3.5 fantasy rules but offering new solutions and options that place it firmly on the cutting edge, the Pathfinder RPG Beta release is the result of the largest open public playtest in RPG history.
"The Pathfinder RPG includes:
Revised rules for the seven classic fantasy RPG races
Updated options for the 11 core classes
A streamlined skill system that makes things easier for players and GMs
A host of new and familiar feats, including innovative combat feats and item creation rules
New equipment
New and revised combat options aimed at dispelling confusion at the game table without sacrificing versatility
Overhauled rules for domains, familiars, bonded items, specialty schools, and more
Dozens of new and revised spells
Updated rules for NPCs, including quick-generation rules New rules for curses, diseases, and poisons
A completely overhauled experience system with options for slow, medium, and fast advancement
Hundreds and hundreds of magic items
AND MUCH, MUCH MORE"
Book Details:
Author: Jason Bulmahn
Publishers' Reference: PZO1110B
ISBN: 978-1-60125-149-7
Paperback, 300 pages
Date: August 2008
Buy this product:
Product page last updated: 17 August 2008