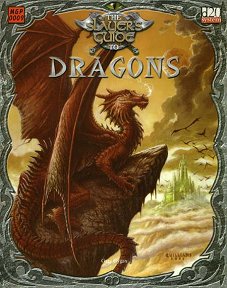 Fabled beasts, the very name of the game, but apart from which colour has what breath weapon, how much do you really know about dragons?
Publisher's blurb: "What creature has more magnificence, more savage ferocity and more sheer power than the dragon? The great wyrms stand tall as the ultimate challenge an adventurer may face. Rare is the player who does not dream of besting one of these terrible creatures, of plundering its hoard and basking in the glorious reputation enjoyed by a dragon slayer.
"Whether you are a Game Master seeking to add more depth to the dragons of your campaign or a player hoping to learn the secrets of the dragon slayer we invite you to join us on a journey into the hidden world of the dragon. Along the way we will learn the secrets of these tremendous beasts, their arcane sorceries, their mating habits, methods of warfare and more. Within these pages new types of dragon are revealed for the first time and numerous lairs are described. All this is but a sample of the occult facts we will learn as we dig into this newly discovered trove of dragon lore."
More when I get hold of a copy!
Book Details:
Author: Gary Gygax
Publishers' Reference: MGP0009
ISBN: 1-903980-27-5
Paperback, 128 pages
Date: 2002
Buy this product:
Product page last updated: 10 August 2008