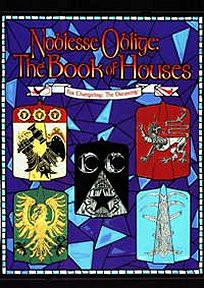 The ruling houses of the Kithain vie for supremacy over the commoners and indeed the fate of the Kith race. This book reveals their secrets, agendas, and customers.
Publisher's blurb: "Since the Mythic Age, the noble houses have been hailed as the leaders of the fae. Though most know only a little of these houses, few truly understand them. Finally, Baron Edgewick, scribe to High King David, has assembled a discourse on the five most powerful houses of the Seelie Court. These pages are a complete dissertation and serve both as a primer for those fae new to a house, as well as offering an insider's look at the inner workings of noble houses.
"This book offers an inside look at the five most prominent houses of the Seelie Court: Dougal, Eiluned, Fiona, Gwydion and Liam. Within you will find the complete histories and cultures of each house as well as its views on the other houses and the commoner kith."
More when I get hold of a copy!
Book Details:
Authors: Bryant Durrell, Jennifer Hartshorn, Deena McKinney, Wayne Peacock, and Ethan Skemp
Publishers' Reference: WW7305
ISBN: 1-56504-719-2
Paperback, 144 pages
Date: 1998
Buy this product:
Product page last updated: 6 August 2008