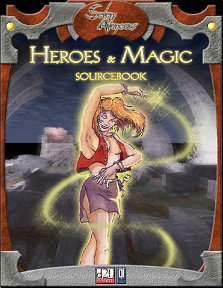 Revised version of the introduction and background to the world of Arthad.
Publisher's blurb: "The world of Arthad is divided into kingdoms. In every kingdom lives a race who are direct descendants of one of the Galinor favorites, apart from Gadrath the Immortal who has no descendants. Most of the races are human, with rare exceptions that are not covered in this book. Humans are however not a single race but a number of races differing in many ways. Youíll find the usual favored class for any race and a forbidden class. A Forbidden class means the race cannot take that class for role-playing reasons (i.e. a Drakand barbarian canít be a literate cavalier), your Referee may, of course, change these rules. In this book you will find several races, a new class and a basic explanation of how magic works."
Thanks to 0one Games for making this available!
Available FREE from the 0one Games website, click HERE to get your copy.
Book Details:
Author: Mario Barbati
Publishers' Reference: SA00
ISBN: Unknown.
PDF, 38 pages
Date: May 2003