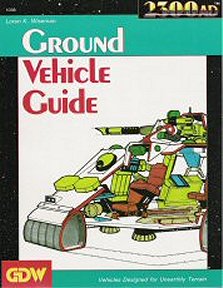 For most players, the next best thing to a good fight is a shopping trip!
Publisher's blurb: "The Ground Vehicle Guide presents 34 vehicles and their variants, both civilian and military, all fully illustrated. The full panoply of ground vehicles in the 2300 AD universe is covered, ranging from a small, two-passenger vehicles (such as the Matsu Snow-Demon) upward through American, French, and German combat vehicles (including the most modern types to the largest ground tanks and hovercraft.
"Whether the players are assembling an exploratory expedition for an uncharted world , equipping a mercenary unit or are simply curious about the vehicles of the 2300 AD universe, the Ground Vehicle Guide will more than satisfy their needs. Game statistics for each vehicle are included with the illustrations. Players can look at the cutaways and imagine their characters sitting inside the vehicles. Referees can use the illustrations to imprive their descriptions of game events. The Ground Vehicle Guide cannot help but make a game of 2300 AD more exciting.
"Color plates depict either cutaways of exterior views of the American M9 hovertank and M24A3 hover APC, the French CC-12, the German LkPz-IX and GfPzTr-XIII and the Australian Kangaroo-IV. The module includes patches and vehicle emblems in full color and color illustrations of add-on vehicle acessories (including a Pentapod air cleaner) which can be fitted onto just about anything. Vehicle acessories include packages to permit the vehicles to operate in extreme heat, extreme cold, unbreathable conditions and vacuum environments. Alternative weapons are covered for many of the military vehicles and local variations are discussed (and often illustrated)."
Book Details:
Author: Loren K. Wiseman
Publishers' Reference: GDW1036
ISBN: 0-943580-99-4
Paperback, 64 pages
Date: August 1988
Buy this product:
Product page last updated: 20 November 2015