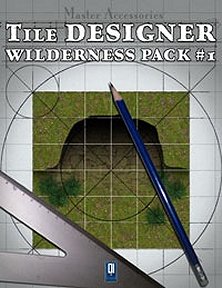 This product contains a fine set of lush wilderness tiles to complement those you make yourself using the Wilderness Tile Designer... or just a nice bunch of wilderness tiles to use as is, if you prefer.
The tiles you get include some standing stones (which combine nicely into a stone circle Stonehenge style), an altar, a couple of waterfalls, the edges of a lake (which again can be combined to make the whole lake complete with a small island), some fence segments, a couple of abandoned carts, a horse trough, areas edged by wood (not madly clear, this one), tombs, a campfire, a well, a couple of bridges and a cave entrance. They're all good-looking and include some features that you don't even get with the Wilderness Tile Designer.
Overall, a useful addition for anyone who likes running adventures set out of doors... or just wants to add some spice to the hike to the next dungeon or town.
Return to Tile Designer Wilderness Pack #1 page.
Reviewed: 13 July 2008