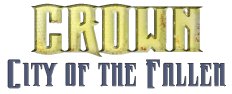 Produced by Dark Quest Games and supported by a line of fiction using the setting, there are different themes in Crown, but some are more important than others. These themes bring a certain flavor and mood to the city and help define its citizens. The GM should feel free to introduce new themes to the city and game as he sees fit, but these will hopefully provide him with some inspiration.
Crown is a home of adventurers and it could be argued that they are indeed the reason why the city is so prosperous. They serve the city and the Queen, and must pay a monthly due to the coffers of Crownmeet Castle, which helps maintain the Crown Watch and the great castle. In return the adventurers become a free people, who are very rarely, if ever, bothered by the Watch and always welcome at Crownmeet. Sometimes they are even invited by Queen Alayarra herself.
Faith, intrigue and secrets also play their part in creating the swirling mix that is Crown: City of the Fallen.
Setting Page last updated: 28 June 2008