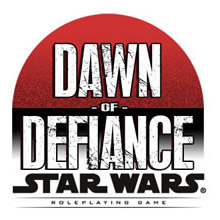 This is a series of adventures released for free by Wizards of the Coast for the new Saga version of the Star Wars RPG.
Dawn of Defiance adventures are designed to take characters from level 1 all the way to level 20 in a continuous storyline to give both players and Gamemasters a complete Star Wars Roleplaying Game Saga Edition experience.
Set in the months after the events of Revenge of the Sith, the adventures in the Dawn of Defiance campaign are designed to provide players and GMs with the iconic Star Wars Roleplaying Game experience, set against the backdrop of the tyranny of the Galactic Empire.
Setting Page last updated: 4 April 2008