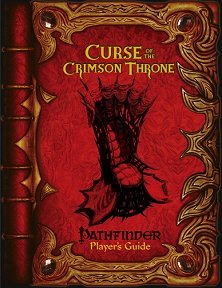 Designed to prepare players and their characters for partipation in the Curse of the Crimson Throne campaign, this product opens with an introduction to the city of Korvosa where much of the action takes place. It's intended that characters will be natives of Korvosa and moreover at some time in their past have had a run-in with a local crime lord called Gaerdran Lamm... with a cunning mechanic that gives each character some small advantage related to the nature of his particular quarrel.
You'll find the usual run-down on the city's attitude to the regular races and classes, and how characters of each feel in general about the place; along with some items of equipement commonly used there and several feats unique to the city or at least useful there. For example, someone raised in the rooftops slums called the Shingles may take a feat Shingle Runner which basically confers the skills of parkour (free running), while a wizard can choose the benefits of the Acadamae Graduate, a well-regarded college of magic within the city.
Then comes a section on Traits. Here, each character can start fleshing out their prior involvement with Gaerdran Lamm, build some backstory and gain something in the process. It's an excellent tool to start creating a common bond between party members and provides for role-playing and adventure opportunities alongside the main campaign.
Overall, another good introductory book that makes you itch to begin playing - or running - the new campaign.
Return to Curse of the Crimson Throne Player's Guide page.
Reviewed: 23 February 2008