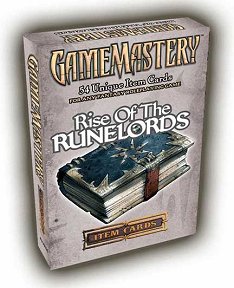 The idea behind these cards is to provide something tangible to hand out to players when their characters acquire an item. Physically, they are very nice: made the same size as the average trading card game card (handy as plenty of storage systems are available for them) with a full-colour illustration of the item on one side and a brief description with ample space for notes to be written in on the other.
This particular deck consists in the main of items found in the Pathfinder campaign world, many being introduced in the Rise of the Runelords Player's Guide. However, if the DM is supposed to buy the deck to distribute as necessary, having but a single card for some of the more common weapons - just about every goblin's got a dogslicer for example - might make for hard choices. More useful are things like scrolls, potion bottles and wands, where there are several examples with different appearances, the DM can assign different spells and powers, either writing them in the notes space or leaving the characters to find out for themselves, while tracking them using the unique number on each card.
Overall it is quite a nice idea, if a bit fiddly. Useful if your players are not good note-takers, you can empower them to track at least major items in their possession without having to spend time preparing personalised lists for them. Some of the cards will even spawn ideas for an item which could play a major part or even be the focus of an adventure... and there's a pretty gold ring with the 7-pointed star symbol which I'm tempted to take round to a jeweller to get him to make me one!
Return to Item Cards: Rise of the Runelords Deck page.
Reviewed: 20 January 2008