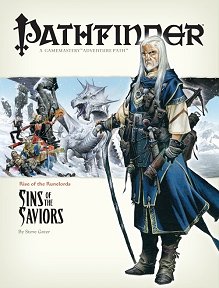 Part 5 of The Rise of the Runelords, the adventure is aimed at characters of 12-13th level.
Publisher's blurb: "After defeating the giants of Mokmurian, the heroes discover that Karzoug, an ancient wizard from the long-dead empire of Thassilon, has returned to life. From his city fortress of Xin-Shalast high in the mountains, he has been using the giants to harvest souls to reclaim his lost power.
"The secret to defeating him before he can reclaim his realm and enslave the region lies hidden in a deadly dungeon called Runeforge. After defeating the dragon that guards the entrance to Runeforge, the PCs must rave the haunted vaults below to discover the ancient forge capable of empowering weapons so that they can strike true against Karzoug. Yet in order to master this ancient magic, the heroes of Sandpoint must embrace the darkest magic of ancient Thassilon as their own.
"This volume of Pathfinder includes information on the dragons of the region as well as an examination of ancient magics from the ancient empire of Thassilon for use in your campaign, including rules for the lost art of sin magic."
More when I get hold of a copy!
Book Details:
Author: Stephen S. Greer
Publishers' Reference: PZO9005
ISBN: 1601250398
Paperback, 96 pages
Date: January 2008
Buy this product:
Product page last updated: 19 January 2008