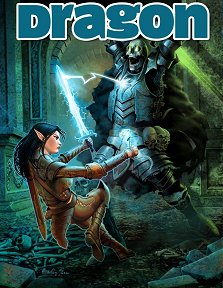 The first issue of Wizards of the Coast's online magazine, Dragon issue #360 takes a look back at the D&D game, as well as a look forward to the future of 4th Edition. Fourth Edition's lead designers explore their inspirations in this issue, and we're also giving you some exclusive content compatible with the new edition in the "Ecology of the Death Knight."
Contents: -
Designing 4th Edition
Demonomicon of Iggwilv: Graz'zt, the Dark Prince
Lethal Locations: Dragons of Eberron
Ecology of the Death Knight
Infernal Aristocracy: The Dukes of Hell
Fortress of the Yuan-ti: The Lost Portals of Castle Serastis
Dragons of Eberron: Dragon Hoards
More when I get hold of a copy!
Journal Details:
Editor:
PDF, 75 pages
Date: December 2007
Obtain this product:
Issue page last updated: 5 May 2015