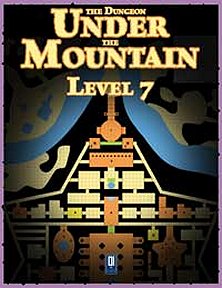 A true feast for the lover of the dungeon-crawl (and even more so if you have other levels as well!), here is presented a vast underground complex ready for you to create a story, populate it with monsters and add some loot. Built in the shape of an 8-pointed star within the confines of an underground river, 0one's suggestion is the well-defended fortress of a demon lord but of course you are free to make of it what you will - perhaps it's a temple complex or a hidden centre for the study of magic.
Showing 0one's customary mastery of PDF technology, you get a giant poster map of the whole thing (excellent if you have access to a large-scale printer) as well as the same spread over 8 normal size pages which you can print out and tape together to the same result. The whole thing is vector-plotted, which means that it can scale up or down completely accurately, so even if you want to print a single room to 'battle map' size, you can.
Options allow you to show or hide teleports, room numbers and a grid, and to highlight some rooms as main areas, as well as some ink-saving features. But basically it's an empty complex all ready for you to lay out your own adventures... Have fun!
Return to The Dungeon Under the Mountain Level 7 page.
Reviewed: 31 December 2007