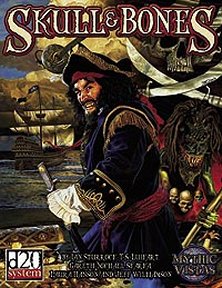 Everyone wants to play a pirate, right? Whether you want a pirate-centred campaign, or to use them as part of something else, herein you will find resources to do so.
Publisher's blurb: "Pirates prey upon Spanish Galleons, adventurers search for buried treasure, and the dead walk the streets of Port-au-Prince-this is the world of Skull & Bones. Designed by Adamant Entertainment, Skull & Bones is a superbly researched RPG that brings the history and legends of the Golden Age of Piracy to life. Comprehensive d20 rules cover everything from character classes to firearms to naval combat, as well as Voodoo magic. The mysterious world of houngan and boccors unfolds, with details on every aspect of Voodoo, from gris-gris to zombi to the powerful and capricious spirits known as the Loa."
More when I get hold of a copy!
Book Details:
Authors: T.S. Luikart, Gareth-Michael Skarka, and Ian Sturrock
Publishers' Reference: GRR1018
ISBN: 0-9723599-7-4
Paperback, 192 pages
Date: Due August 2003