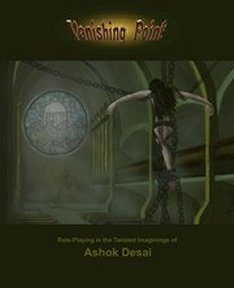 A scary place to visit... and you might not get to leave!
Publisher's blurb: "Society dances to the tune of insanity. The aristocracy press down from above squeezing profit and privilege out of the lower classes like fine wine from a grape. The streets are thronged with beggars and outcasts. Those who can work do so in appalling conditions in factories and mines, their sweat lining the pockets of the rich. Those who cannot eke out whatever life they can in the wilderness, foraging for scraps amongst the caverns of a subterranean world packed full of dangerous creatures whose very existence is against nature. But there is a storm coming, a revolution that could shake the pillars of society and send the privileged tumbling from their lofty perch, taking the rest of civilisation with them.
"Maybe you had a home once, long ago, but you barely remember it now. How you got here is a mystery of unreasonable sciences from the haziest theories of quantum mechanics. The laws of physics don't apply here as they should. Electricity is little more than a dream and a phantom. Gravity is optional. Space can be distended with a little effort. Steam power is far more effective than should ever be possible. Even time itself can be defied if you know the way of it. Worst of all, there is no escape from this asylum of a place. Though you may twist your way into the mundane world you were born to, your treacherous mind only hauls you back again when the strain of normality becomes too much for it to bear. Better not to think of it.
"Which would you trust? An oppressive Victorian government that treats other races as little better than animals, a terrorist organisation who would sacrifice as many innocent lives as necessary to remove them from power, or an unbalanced lunatic with the powers of a god?
"Trust is a commodity that you cannot afford."
More when I get hold of a copy!
Book Details:
Author: Ashok Desai
Publishers' Reference: Unknown
ISBN: 0955148200
Paperback, 346 pages
Date: September 2005
Buy this product:
Product page last updated: 24 November 2007