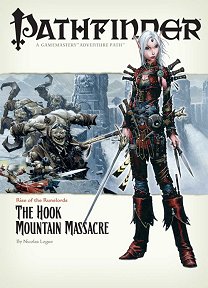 An adventure for characters of 7th-9th level, along with rules for maintaining and running a castle, a gazetteer of the wilderness region featured in the Adventure Path, and several new monsters.
Publisher's blurb: "The third installment of the Rise of the Runelords Adventure Path begins with a desperate call for aid from Hook Mountain. A tribe of ogres has slaughtered the garrison of a small keep, including the famous retired war hero stationed there. The few surviving rangers need the heroes to help them retake the key fortification back. Once the ogres are driven off, the PCs are awarded stewardship of the keep. Yet as the heroes begin the task of repairing and expanding their new stronghold, a sinister force grows in the surrounding wilderness.
"What ties did the slaughtered commander have to these vengeful ghosts, and what terrible secrets do the ogres of Hook Mountain hide? Are the rumors of an army of giants massing for war in fact true?"
Book Details:
Author: Nicolas Logue
Publishers' Reference: Unknown
ISBN: 160125038X
Paperback, 96 pages
Date: October 2007
Buy this product:
Product page last updated: 12 January 2008