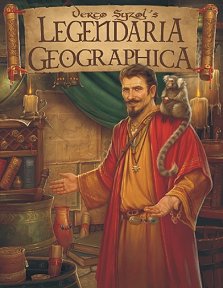 Eclectic look at the world setting, told in 25 tales by Verto himself. This will let all GM's use this book to inspire numerous adventures for any game system.
Publisher's blurb: ""...So, on my way to consummate what should have been a lucrative trade with the Osarians, I chanced upon the haunted Black Rock Keep every bit dreary as the Barrow of Acara, where I swear the foul breath of the rotting Winshar dogged me every step... which was, of course, not the same exhilarating thrill provided by the visions atop the Cliff of Eternity, as I so thoroughly elaborated to Alistra Monshae in her famous Dancing Dryad over precious dragonberry wine. Surely you have heard of it?
"No, I do not meander. If I did, I would not have sold the myriad reams and scrolls chronicling my journeys, many of which no doubt still circulating in Runespar University... Yes, that dwarven institute for arcane education. Despite rumors to the contrary, the mage-mentors were merely jesting about turning me into a newt for mistakenly removing certain tomes from the library, since they understood how confusingly alike the words 'free' and 'prohibited' are in the dwarven language.
"Right, back to Black Rock. From the Keep is where I retrieved the long-lost DeGaullis. Or was it from the Whispering Sphere? Nevertheless, it was rather unfortunate when I was forced to relinquish the prized masterpiece in exchange for my life at Illandra's Vigil... Well, regrettably I must attend to some urgent business now, but just between you and me, I have recently compiled my travel highlights in this handy journal here, available for a modest fee. Therefore, if you're interested..."
More when I get hold of a copy!
Book Details:
Authors: Unknown
Publishers' Reference: WSP0009
ISBN: 0-9774481-8-5
Paperback, 102 pages
Date: August 2006
Buy this product:
Product page last updated: 23 September 2007