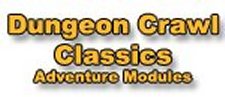 Published by Goodman Games, this series of adventures is aimed at those who remember the good old days, when adventures were underground, NPCs were there to be killed, and the finale of every dungeon was the dragon on the 20th level. Those days are back. Dungeon Crawl Classics don't waste your time with long-winded speeches, weird campaign settings, or NPCs who aren't meant to be killed. Each adventure is 100% good, solid dungeon crawl, with the monsters you know, the traps you fear, and the secret doors you know are there somewhere.
They're cracking good adventures, and there's scope for those who actually want to role-play their characters as well as hit things!
With the advent of the 4th Edition of Dungeons & Dragons, Goodman Games have launched a new Dungeon Crawl Classics line to utilse the new ruleset (although provided you have mastered writing encounters, the original adventures will convert quite easily!).
In 2012, Goodman Games took the next step and released the Dungeon Crawl Classics RPG, a heady mix of classic fantasy gaming with an elegant modern ruleset.
Setting Page last updated: 23 July 2012