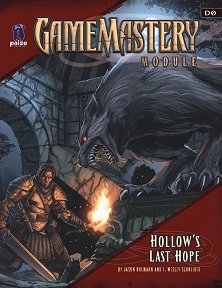 This adventure is designed to introduce the characters to the township of Falcon's Hollow and the surrounding area - useful if it is intended to run other adventures in this series. It is an unprepossessing company town, belonging to a logging company, with little to attract passing adventurers. However, a fungus-infested well is causing a nasty disease to spread through the town, and the characters' aid is enlisted to find some ingredients for a potion which the local apothecary things might help.
Both wilderness travel and the exploration of deserted ruins is involved in their quest, and there are plenty of opportunities for interaction with the inhabitants of the town and beyond as well as the need to engage in combat. The whole thing is well put together, with information such as monster statistics and fighting tactics included in each encounter so that you do not have to find them mid-combat. Likewise for more benign encounters, NPCs' likely reactions, motivations and even future behaviour are provided in a convenient and concise manner. There's plenty going on apart from the characters' mission, which makes for the creation of an effective alternate reality: a world in which you can imagine all this going on whether or not the characters were there at all.
Overall, this is a well-balanced and well-presented low level adventure, with sufficient to challenge even the experienced player but enough scope for novices to have a fine introduction to the game. A good start to what promises to be an interesting line of adventures.
Return to Hollow's Last Hope page.
Reviewed: 16 August 2007