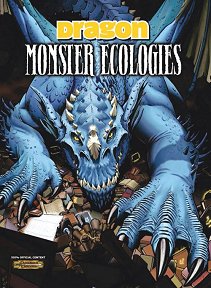 If you find that the 'monster ecology' articles in Dragon help you make monsters come alive, then this collection of the best of them will be useful. If you have never seen this articles, try it - it is a great way to make monsters a real part of your alternate reality, rather than just something to be bashed!
Publisher's blurb: "This special issue of Dragon magazine contains 128 advertising-free pages of the best ecology articles from the past three years. Drawing from the ongoing and popular 'Monster Ecologies' series, this giant collection features new rules, art, details, and encounters for some of the most fearsome and fantastic monsters in the history of Dungeons & Dragons.
"Dragon: Monster Ecologies contains ecologies of the choker, chuul, dracolich, draconian, ettercap, inevitable, kenku, kobold, kraken, lizardfolk, mooncalf, night hag, rakshasa, rust monster, shadar-kai, spawn of Kyuss, spell weaver, and will-o'-wisp. But that's not all.
"As if a dozen and a half ecologies weren't enough, we also asked Gary Gygax, China Miéville, and Rob Kuntz to recollect their favorite D&D monsters; we take retrospective looks at the beholder, githyanki, mindflayer, and displacer beast, and then we wrap it all up with a feature known as the 'Monsters of Suck.' And did we mention an index of every ecology ever printed?"
More when I get hold of a copy!
Book Details:
Author: James Jacobs (Editor)
Publishers' Reference: Unknown
ISBN: Unknown
Paperback, 130 pages
Date: 2007
Buy this product:
Product page last updated: 13 August 2007