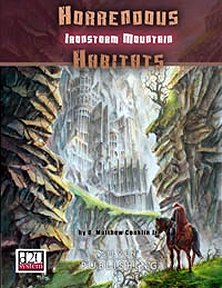 An entire site to drop into your campaign world, complete with maps, inhabitants and background information to make it come alive.
Publisher's blurb: "In the wintery peaks of the Ironstorm Mountain, greed and old evils have fought for domination. Centuries ago dwarven prospectors found the mountain that would later become known as Ironstorm (or Cair-Ebok to the dwarves) on the southern tip of a temperate east-west range. It was a veritable miner's cornucopia rich in iron, nickel, silver, zinc and that rarest of metals - mithral. Veins of precious gemstones ran through her core like frozen streams, for the mountain was closely connected to the Elemental Plane of Earth. Planar and geological fluctuations between the two realms caused new deposits of ore to appear spontaneously within the mountain.
"Ironstorm Mountain has many locations ripe for adventure, including prisons, crumbling cities, dueling dragons, and the sleeping form of a dark god. In addition to a number of physical dangers, enterprising azers, nefarious slavers, insane derro, cloaker assassins, and a devious cult that includes four clans of troglodytes also populate the mountain. Parties of adventurers should find themselves amazed and challenged by what they find in the depths of Ironstorm Mountain."
Book Details:
Authors: B. Matthew Conklin III, Greg Oppedisano and Christopher Wissel
Publishers' Reference: SP11002
ISBN: n/a
PDF, 50 pages
Date: August 2007
Buy this product:
Product page last updated: 23 August 2007