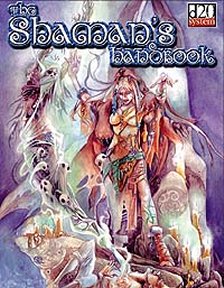 If wizards are too bookish, druids too tree-hugging and sorcerers too wild - try a shaman for size!
Publisher's blurb: "The shaman is a master of the Spirit World and a powerful addition to any adventuring party. The Shaman's Handbook provides not only the class itself, but new prestige classes, spells, skills, feats, and magic items (including such new types as charms and fetishes). The book also provides useful information on the Spirit World and real world shamanic traditions, a bestiary of spirits and ghosts, and several new monster templates. Perfect for players and game masters alike, the Shaman's Handbook opens up a whole new world for your d20 campaign."
More when I get hold of a copy!
Click HERE if you want to buy this book from Amazon.com or HERE if you prefer to use Amazon UK.
Book Details:
Author: Steve Kenson
Publishers' Reference: GRR1013
ISBN: 0971438013
Paperback, 80 pages
Date: April 2002