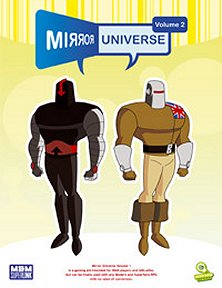 This is a second collection of superhero images - presented as stand-up, miniatures-sized stand-up and counter - which can be used in play to represent your character or indeed any costumed NPC/villain that you might encounter. Again, if you do not like the colour scheme (or don't have a colour printer) there are line art versions as well.
There is quite a good variety - male and female, weapon-wielders, folks with big muscles, agile-looking ones, armoured ones and so on - so if none in the first volume appealed it is worth a look to see if one of these fits your concept better.
As a bonus, there are 'condition markers' for use with the Mutants & Masterminds system - rather oddly, there's one per full-colour page of character images rather than on a single sheet. There are also 'backgrounds' (text only, no statistics) for the characters, presented as either hero or villain, if you are in need of a quick concept.
Like Vol.1, a useful product for a group to have if they like visual representations of their characters but lack an artist.
Return to Mirror Universe Vol.2 page.
Reviewed: 31 May 2007