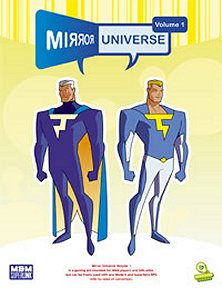 Intended to provide ready-made superhero (or supervillain) character images, particularly for those who like to create their own original characters and perhaps whp are not very good at the comic-book art style, here is a collection of 12 to choose from.
Each one is depicted as a full-colour 'stand-up' display figure, with a matching miniature stand-up figure of a suitable size for those who like to use miniatures in their games and a counter-style one. For Mutants & Masterminds players, there is a set of condition markers you can hang on the large stand-up to show how well he is at the moment. And, if you don't have a colour printer or prefer a different colour scheme, the whole lot is also available in line art.
Moreover, if you are in need of quick ideas, each character drawing is accompanied by a one-paragraph outline of who that character could be, in fact 2 paragraphs one with him as a superhero and one for a supervillain. The range is wide, with both male and female, muscle-bound and swift-looking... and of course there are several more volumes if nobody here takes your fancy.
Overall a useful adjunct to superhero games, especially if you like to use minatures or character markers during play, and for those occasions when a verbal description just won't do!
Return to Mirror Universe Vol.1 page.
Reviewed: 28 May 2007