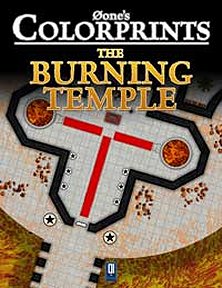 Not perhaps the most restful place to worship...
Publisher's blurb: "Someone calls it 'the Gateway to Hell' or 'the Burning Prison' and most common people pronounce its name to scare children. Always staying between myth and legend, no one knows if the temple actually exist. Unfortunately, as often happens, legends are true and far in the northern mountains, hidden to the sight of most of the people, rises the Burning Temple. Common folks simply cannot have access to the Burning Temple as it rises in the middle of an active volcano. The Temple sits on a fungus-shaped platform rising in the very center of the volcano.
"A long bridge connects the temple with the edge of the crater where starts a pathway connecting the bridge to the valley below. Physically the Temple simply could not exist as the magma would quickly consume the stone fungus and would make it collapse, but it stands still against centuries due to a divine intervention. The temple is devoted to an obscure deity named by local folklore 'The Burning One'. The Burning One protects its worshipers against the poisonous gases and the exhalations of the volcano as well as from the heat. Still, the cabal of priests who run the temple need servants and slaves to work in the dungeon of the temple. The evil priests send their dark emissaries, called 'the Burning Angels' to the near countries to kidnap unaware people; unfortunately, these people are not protected as the priests are, so they quickly die by poisonous gases and exhalations making the priests always in need of fresh slaves."
More when I get hold of a copy!
Book Details:
Authors: Mario Barbati
Publishers' Reference: COL03
ISBN: n/a
PDF, pages unknown
Date: April 2007
Buy this product:
Product page last updated: 1 May 2007