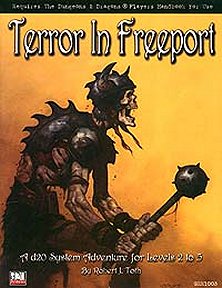 Continuing and expanding on Death in Freeport, this adventure leads the characters to dig beneath the apparent calm to deal with evil plots lurking beneath...
Publisher's blurb: "Terror in Freeport is 32 pages of rollicking adventure, set in Chris Pramas's dynamic fantasy city. It works either as a stand-alone adventure, or as a sequel to the best-selling Death in Freeport. The d20 System once again provides the framework for a story of heroism and villainy. This time the PCs learn that not all cultists lurk beneath the streets, and not all serpent people are agents of evil. Plunder and peril await in Freeport, the city of adventure."
Click HERE if you want to buy this book from Amazon.com or HERE if you prefer to use Amazon UK.
Book Details:
Author: Robert J. Toth
Publishers' Reference: GRR1003
ISBN: 0970104820
Paperback, 32 pages
Date: November 2000