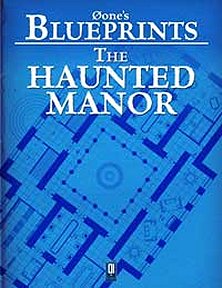 This fine setting from the Blueprints series depicts a large house - verging on a stately home rather than a mere manor. It sits on cliffs overlooking the sea and, unless you need this substantial home for some lord within your campaign, the underlying idea is that it is believed to be haunted. This belief stems from the fact that it remains empty yet all the furnishings and fittings remain untouched, if a bit dusty. Oh, and strange lights are sometimes seen at night.
The house itself has 2 floors plus an underground level, and you also get a map of the surrounding area and one of its nearest neighbour - a woodcutter who lives near some rather strange standing stones. All of these come in black and white or 'blueprint' form, and are customisable by use of the 'Rule The Dungeon' controls. These can be set on a map by map basis, or you can control the entire set of maps from a master control. This includes showing furniture, a scale grid and even adding a compass rose (north pointer) to each map - you can, of course, decide which direction is north.
Just looking at it starts to give me ideas for adventures in which the house might feature... definitely one to add to the collection.
Return to The Haunted Manor page.
Reviewed: 14 February 2007