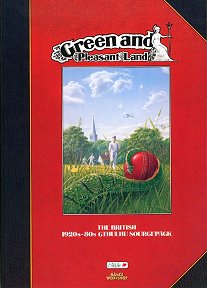 Another collaborative work between Chaosium and Games Workshop, this sets the scene for adventuring in the United Kingdom, featuring many British writers in the credits.
Publisher's blurb: "The British 1920s-30s Cthulhu Sourcebook. This volume is a Companion to the 3rd Edition Call of Cthulhu rules, which allows the full horrors of the Cthulhu Mythos to be enacted in good old 1920s-30s Britain, Heart of the Empire, Centre of Civilisation and an all-round top-hole, spiffing place to set your Call of Cthulhu campaign, what? Featured within are sections on British Characters, History, Travel, the Occult, and much more besides, which provide all the information Keepers require for British Cthulhu Roleplay. Also included - three new adventures! The Horror of the Glen - A brutal murder in the Scottish highlands is not all that it seems. How could a half-wit boy have committed such terrible mutilations upon the body Donald McColl? When the Investigators arrive, they may find that the real answer to the question lies within the haunted McMorn Manor - and that secret may be more than their Sanity can bear! Death In The Post - a strange papyrus, a horrific murder and a plea for help from a respected gentlemen. What more incentive could any Investigator want? But can the Investigators solve the mystery in time to prevent more slayings, and to find the evil behind the mysterious campaign of death. The Shadow over Darkbank - even on holiday, there's no rest for an intrepid Investigator. When strange things start happening in the Darkbank Tunnel, it might be a sequence of tragic accidents - or it might be something far more sinister... Plus - a contribution from the British Master of Mythos Fiction, Brian Lumley."
More when I get hold of a copy!
Book Details:
Authors: Andy Brabury, Caroline Rogers, Chris Elliot, Graeme Davis, Marc Gascoigne, Marcus L. Rowland, Norman Tamlyn, Pete Tamlyn, Peter F. Jeffrey, and Richard Edwards
Publishers' Reference: CHA2320
ISBN: 0-933635-39-7 (US) and 1-869893-06-9 (UK)
Paperback, 80 pages
Date: 1987
Buy this product:
Product page last updated: 21 January 2007