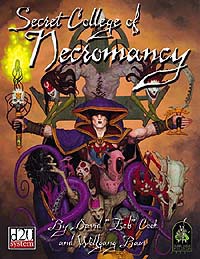 With 2 new core classes, and loads more goodies in the shape of spells, feats, items, magic books, etc.; this book provides for DMs and players who wish to include the darker arts. There is a necromantic organisation, the Secret College, complete with leading members and maps, plus other places to visit and new monsters to create or fight.
Publisher's blurb: "Necromancy. What is it about this word, above so many others, that its merest whisper, a voice on the wind, can so completely inspire terror and revulsion in even the strongest of men? Given the hatred it inspires, what sort of person chooses this dark path? Who among us chooses to be an outcast, a pariah, even a target of the Inquisition? With its dabblings in blood and corrupted flesh, graveyards and abattoirs, unclean spirits and immoral scoundrels, what is the appeal of this dark art?"
More when I get hold of a copy!
Click HERE if you want to buy this book from Amazon.com or HERE if you prefer to use Amazon UK.
Book Details:
Authors: David "Zeb" Cook and Wolfgang Baur
Publishers' Reference: GRR1014
ISBN: 0971438021
Paperback, 112 pages
Date: