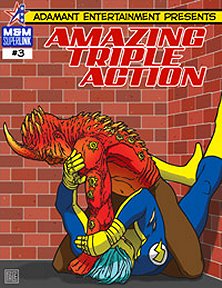 More material for superhero campaigns.
Contents: -
First Appearance: NPCs for your campaign. Featuring Firebird, Tornado, Feast & Famine!
TrickBox: Tools for your campaign. New archetypes and powers, and new rules: Crashing into Things (an addition to the pursuit rules), and Group Member Complications.
ATA Presents: Carnage Rising - An adventure plan, featuring the NPCs and locations detailed in this issue.
Action Stations: Advice for superhero campaigns - in this installment: A system for running Development Scenes during campaign downtime.
More when I get hold of a copy!
Journal Details:
Editor: Morgan Davie
PDF, 36 pages
Date: December 2006
Buy this product:
Issue page last updated: 1 January 2007