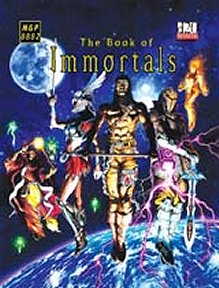 Have you ever thought that those deities seem remarkably stupid or selfish for beings so priviliged? Or just wished that you had more time for a project? Maybe becoming an Immortal is the answer...
Publisher's blurb: "Before light, before shadow, before darkness, before earth and sky and sea, there existed many beings. These beings made all that is, all that was and all that may ever be. They forged the realms of existence: the planes, the seas, the gods � everything. None know their names, though all people tell stories of them and their creations. Even the gods cannot speak truth about their nature. These beings, whatever they are, set the stage for all that would come.
"Within the realms of existence, one finds three states of being: gods, mortals and beings who stand somewhere between the two. These latter beings, called Immortals, wield powers far beyond what mortals can hope to wield. They can call up armies of spirits, spark the sky into a raging blaze or shatter the earth with a single blow from their mighty hands. Great as their powers are though, they cannot match the gods� might.
"Gods and Immortals wield incredible, world-shaking powers, manipulate the fate of nations and visit ruin upon those who oppose them. They may have worshippers, temples, nations and even entire worlds singing their praises. Most are as fickle as cats and seemingly indifferent to the damage done to lesser beings in their titanic struggles with cosmic forces.
"But where does that leave the common man? A mere puppet to be toyed with; a pawn to be used in the endless games of the gods? For those brave enough to take on the seemingly impossible there is hope, for mortals can become Immortals. They can take up arms against the gods themselves, shaping destiny to suit their personal whims. Their powers can shelter nations, strike down mountain ranges and shatter the barriers between worlds."
More when I get hold of a copy!
Book Details:
Author: Shannon Kalvar
Publishers' Reference: MGP8808
ISBN: 1-904577-98-9
Hardback, 256 pages
Date: August 2004
Buy this product:
Product page last updated: 31 December 2006