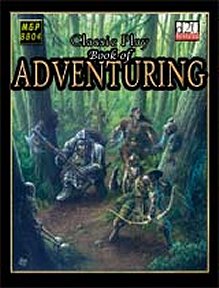 If there ever was a college course in being a D&D adventurer, this would be the textbook.
Publisher's blurb: "This book presents everything a character needs to become a successful adventurer, from detailed advice on how to get the most out of every piece of equipment to what to expect when travelling outside the boundaries of his own world. The book is divided in three parts, opening with The Adventurer's Craft, which gives detailed advice on the options that depend on the adventurer's own efforts and planning. It starts with the matter of equipment, sometimes a deciding factor in the success or failure of a plan; while the next chapter explains matters of tactical importance, centring around the adventuring party and the roles that each character can fulfil within one. Next comes an exhaustive look at the role of magic and its uses in the different situations that adventurers might find themselves in and the options a spellcaster can choose when specialising in certain tasks. Finally a chapter dealing with the establishment of a home base, a place where adventurers can rest, recover and regroup.
"The second part is A World of Adventure, which focuses on those aspects of a character's life that are outside of his control and to which he must adapt and learn before trying to survive or thrive. This section starts with the most common milieu of an adventurer's travels: the wild places of the world, which include the underground landscapes where evils lurk. The next chapter details civilisation, where adventurers find challenges of a very different nature. Last comes the strangest adventuring stage of all in the form of the otherworlds, the alien planes of existence that are the home of gods, demons and all sorts of fantastical creatures.
"The last part of the book, Playing the Adventurer, consists of topics that focus more on the players than on their characters. Featuring optional activities they can take 'out-of-character' and outside of the game to improve the flow of a gaming session, as well as to solve disputes and use all the tools that Internet technology offers contemporary gamers."
More when I get hold of a copy!
Book Details:
Authors: Adrian Bott and Alejandro Melchor
Publishers' Reference: MGP8804
ISBN: 1-904577-68-7
Hardback, 256 pages
Date: January 2004
Buy this product:
Product page last updated: 31 December 2006