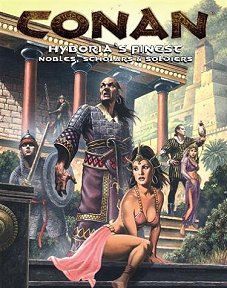 If you aspire to be one of the finest, here is how to create characters that will rise to the top of their professions in Hyboria.
Publisher's blurb: "Devi Yasmina. Thoth-amon. Amalric of Aquilonia.
"Who are they? Nobles, scholars and soldiers are mainstays of the Conan stories as well as the focus of this rule-book. Nobles wield wealth and influence; scholars wield knowledge and alchemy; soldiers wield swords and bows. Each has their arena of expertise. Each are specialists, experts in their fields but uncomfortable and often ineffective outside of their specialty. The nobles tread the jewelled thrones of the Earth, hovering around the perfumed courts and palaces of the Hyborian Age like flies around a carcass. Scholars delve deep into books and tombs, seeking answers to riddles most men shudder to even conceive. Soldiers are the masters of the battlefield, mastering their weapons to a degree few can even hope to attain.
"This book discusses how the various cultures of Conan's age looks at the noble, scholar and soldier classes. Advice is given on what skills and feats to emphasise for each culture's iconic brand of those three classes, as well as additional cultural details to complement the information found in The Road of Kings. Variant rules are offered to better portray these character classes in some cultures. There are also new options given for multiclassing into and out of these classes, forging multi-talented paths as cavaliers, criminal masterminds, hermits, cult leaders, fops and many other character class combinations.
"This book also reveals the secrets of the finest classes: Ability scores, skills and feat selections are discussed for each, plus new social abilities, additional regional features, sorcery style choices, combat style options, tactics, survivability, new scholarly texts (including the evil tomes of Sabatea of the Golden Peacock), new items and spells."
More when I get hold of a copy!
Book Details:
Author: Vincent Darlage
Publishers' Reference: MGP7715
ISBN: 1-905176-17-1
Paperback, 128 pages
Date: November 2005
Buy this product:
Product page last updated: 25 December 2006