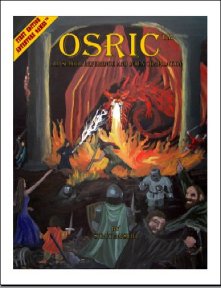 A toolkit to enable the production of '1st Edition Style' adventures, a challenge that has been taken up by several publishers.
Publisher's blurb: "OSRIC represents a compilation of rules for old school-style fantasy gaming. The book is intended to reproduce underlying rules used in the late 1970s to early 1980s, which being rules are not subject to copyright, without using any of the copyrighted "artistic presentation" originally used to convey those rules. In creating this new "artistic presentation," we have made use of the System Reference Document produced by Wizards of the Coast.
"The reason for going back to square one and restating the underlying rules is simple. It allows old school publishers (both commercial and fans) to reference the rules set forth in this document without making reference to any protected trademark (this document is trademarked, but the use of the trademark is permitted under the terms of an open license â?? see the license pages on this site). By using this document in tandem with the Open Game License of WOTC, a publisher should be able to produce products for old-school fantasy gaming and clearly make reference to this particular ruleset without violating the terms of the Open Game License.
"Thus, in many ways, the entire OSRIC book is nothing more than a tool for old-school writers, a stepping stone to put the original, non-copyrightable portion of the old-school rules into an open license, as permitted by law."
More when I get hold of a copy!
Book Details:
Authors:
Publishers' Reference: Unknown
ISBN: n/a
PDF, pages
Date: 2006
Obtain this product:
Product page last updated: 11 November 2006