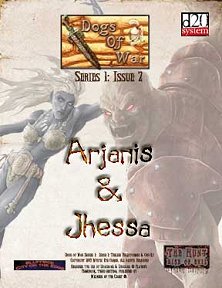 Two more NPCs suitable for use in Bluffside or any setting of your choice.
Publisher's blurb: "The first character, Arjanis, hails from the desert sands. He is a variant drider half-orc ranger/cleric with a talent for locating lost temples. Arjanis is fully detailed at CR 10, 15, and 20. The Crunchy Bits for Arjanis include 3 drider templates (spider, scorpion, and giant wasp), 3 spells, and a weapon special quality; the entirety of the Crunchy Bits section is Open Game Content. The second character, Jhessa, is an exotic half-kraken/half-drow from a lightless, subterranean sea. She is detailed at CR 13, 18, and 23. The Crunchy Bits for Jhessa include pricing for 8 wands, the necklace of fangs, the half-kraken template, and 3 spells."
More when I get hold of a copy!
Click HERE if you want to buy this book from RPG Now.
Book Details:
Author: Charles W. Plemons III
Publishers' Reference: Unknown
ISBN: Unknown
PDF, 25 pages
Date: May 2003