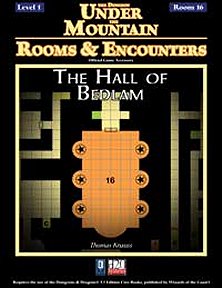 Room 16 Level 1 of the Dungeon under the Mountain... venture in and try to retain your marbles!
Publisher's blurb: "Despite the passage of untold centuries, the chamber beyond has lost little of its grandeur and awe. Tucked neatly in the chamber's perimeter alcoves are six black marble statues of great warriors armed with swords and shields. Gold and silver necklaces hang from the necks of each statue, and an illuminated torch is tightly wedged between an outstretched arm and torso. A tile mosaic of a man wearing a crown dominates the center of the white, marble floor, although it appears that there was an unsuccessful attempt to alter the subject's appearance to that of a pale-skinned dwarf-human hybrid with gray hair. Three stone slabs, apparently fashioned into the likeness of crude, fur covered beds fill the semicircular area at the far end of the chamber.
"The large, rectangular shaped room is nearly spotless, thanks to the tireless efforts of four emaciated human males armed with brooms, mops and feather dusters. A small, stocky dwarflike creature with pale blue-white skin, bulbous white eyes, coarse white hair and a long droopy moustache directs their activities with animated gestures and nodding disapproval. He is armed with a repeating light crossbow and a wand, which he wields as if conducting an orchestra. Accompanying him are two similar creatures armed and attired in a similar fashion. Upon meeting your gaze, a maniacal look comes upon them. The trio briefly mutters inanely amongst themselves before directing their attention towards you."
Book Details:
Author: Thomas Knauss
Publishers' Reference: UNDRE010
ISBN: n/a
PDF, 13 pages
Date: July 2006
Buy this product:
Product page last updated: 18 November 2007