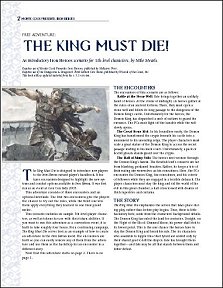 An adventure for 5th-level characters which can serve as an introduction to the Iron Heroes variant rules... or just as a good high-adventure romp!
Publisher's blurb: "The King Must Die by Mike Mearls is designed to introduce new players to the Iron Heroes variant player's handbook. It features encounters that highlight the new systems and combat options available in Iron Heroes and was first run as an event at Gen Con Indy 2005.
"This adventure consists of three encounters and an optional interlude. The first two encounters give the players the chance to try out the rules, while the third one lets them apply everything they learned in one final grand melee.
"This scenario includes six sample 5th-level player characters; a separate download offers sheets of tokens for use with their token abilities. If you want to run this adventure as a convention event, it is built to take roughly four hours. For a continuing campaign, The King Must Die serves best as an example of how to create an adventure in the Iron Heroes mold. The encounters are built so you can easily remove any of them from the adventure and use them as the backdrop for an encounter in a different story."
Thanks to Malhavoc Press for making this available!
More when I get hold of a copy!
Available FREE from the Malhavoc Press website, click HERE to get your copy.
Book Details:
Author: Mike Mearls
Publishers' Reference: Unknown
ISBN: n/a
PDF, 26 pages
Date: 2005
Product page last updated: 15 July 2006