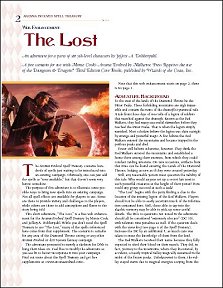 Designed to introduce the Spell Treasury, this is an adventure for 7th-level characters, in or out of the Diamond Throne campaign setting.
Publisher's blurb: "The Arcana Evolved Spell Treasury contains hundreds of spells just waiting to be introduced into an existing campaign. Obviously, one can just add the spells as 'now available,' but that doesn't seem very heroic somehow. The purpose of this adventure is to illustrate some possible ways to bring the new spells into an existing campaign. It shows the spells, adventure ideas, and research methods from the book - well, as many as we could cram in - being used in a game setting. Not all spell effects are available for players to use. Some are there to provide variety and challenges to the players, while others are there to add atmosphere and flavor to the story being told. DMs can use the adventure as written or use it for its tips on how to put the resources in the Spell Treasury to good use."
Thanks to Malhavoc Press for making this available!
More when I get hold of a copy!
Available FREE from the Malhavoc Press website, click HERE to get your copy.
Book Details:
Author: Jeffery A. Dobberpuhl
Publishers' Reference: Unknown
ISBN: n/a
PDF, 9 pages
Date: 2006
Product page last updated: 9 July 2006