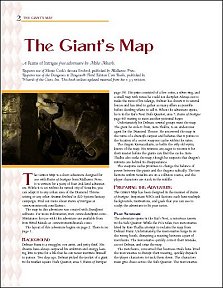 Designed to promote and support the Ruins of Intrigue campaign.
Publisher's blurb: "The Giant's Map by Mike Mearls is a short adventure designed for use with Ruins of Intrigue from Malhavoc Press. It is written for a party of four 2nd-level adventurers. While it is set within the ruined city of Serathis, you can adapt it to any urban area of the Diamond Throne setting or any other Arcana Evolved or d20 System fantasy campaign. This adventure has been designed in the manner of Ruins of Intrigue. Important NPCs and factions each have multiple backgrounds, motivations, and goals that you can use to sculpt the adventure to fit your tastes."
Thanks to Malhavoc Press for making this available!
More when I get hold of a copy!
Available FREE from the COMPANY website, click HERE to get your copy.
Book Details:
Author: Mike Mearls
Publishers' Reference: Unknown
ISBN: n/a
PDF, 8 pages
Date:
Product page last updated: 9 July 2006