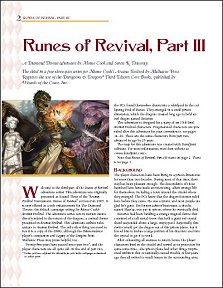 An adventure for 15th-level characters (pre-generated ones are provided), set in the Diamond Throne setting, following on from Runes of Revival 1 and Runes of Revival 2.
Publisher's blurb: "The cursed lands of Verdune threaten all life with a plague of undeath. Mage-priests say the ancient runes in the Pool of Revival may loosen the grim grip of death. Can you overcome the nightmares that stalk the land and complete the Rite of Revival to end the blight?
"This adventure was originally presented as the three-round Arcana Evolved tournament 'Runes of Revival' at Gen Con Indy 2005. It is now fleshed out as a free three-part web enhancement for the Diamond Throne, the default campaign setting for Monte Cook's Arcana Evolved. The adventure series sets in motion events directly related to the return of the dragons, a central theme in Arcana Evolved."
Thanks to Malhavoc Press for making this available!
More when I get hold of a copy!
Available FREE from the Malhavoc Press website, click HERE to get your copy.
Book Details:
Author: Monte Cook and Søren K. Thustrup
Publishers' Reference: Unknown
ISBN: n/a
PDF, 21 pages
Date: 2005
Product page last updated: 9 July 2006