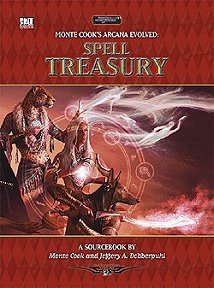 Drawing together spells from The Complete Book of Eldritch Might, the SRD and many wholly new ones, this book is intended to empower spellcasters using the Arcana Evolved rules variant.
Publisher's blurb: "With its converted and new spells, the Spell Treasury more than triples the repertoire of Arcana Evolved spellcasters. And each spell is tailored for the unique Arcana Evolved magic system - all the conversion work is already done for you! Hundreds of Spells for Magisters, Mage Blades, and More!
"This collection offers hundreds of new options for spellcasters, whether they are magisters, witches, runethanes, greenbonds, or mage blades, including many helpful sidebars on the spells' use. The Spell Treasury vastly expands the possibilities of the award-winning game that thousands of players worldwide have grown to love."
More when I get hold of a copy!
Click HERE if you want to buy this book from Amazon.com or HERE if you prefer to use Amazon UK.
Click HERE to get a PDF version from DriveThruRPG.com
Book Details:
Authors: Monte Cook and Jeffery A. Dobberpuhl
Publishers' Reference: WW16132
ISBN: 1-58846-940-9
Hardback, 240 pages
Date: February 2006
Product page last updated: 9 July 2006