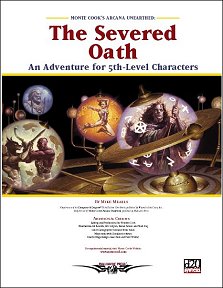 An adventure for 5th-level characters using the Arcana Unearthed variant rules.
Publisher's blurb: "The village of Belleron lies west of the Harrowdeep and east of the Bitter Peaks. When the giants warred with the dramojh, they fought a great battle near the village. Many heroes among the giants fell in the struggle, and they were buried in stone barrows nearby. The villagers of Belleron, overjoyed at their liberation, swore an oath to watch over these graves and let none disturb them.
"Each year the people of Belleron have renewed this promise to keep the graves safe from robbers. They perform a ritual to swear on oath upon an object called the oathsphere, a metal orb scribed with runes of vigilance, fidelity, and debt. This sphere remains within the main barrow and serves as a potent symbol of the village's oath.
"Recently, that oath has been broken. A treacherous harrid and the villainous Order of the Broken Blade broke into the burial mound and stole the item. With the barrows violated and their oath broken, the villagers are doomed unless someone can recover the oathsphere and repair the pact."
Thanks to Malhavoc Press for making this available!
More when I get hold of a copy!
Available FREE from the Malhavoc Press website, click HERE to get your copy.
Book Details:
Author: Mike Mearls
Publishers' Reference: Unknown
ISBN: n/a
PDF, 25 pages
Date: 2004
Product page last updated: 8 July 2006